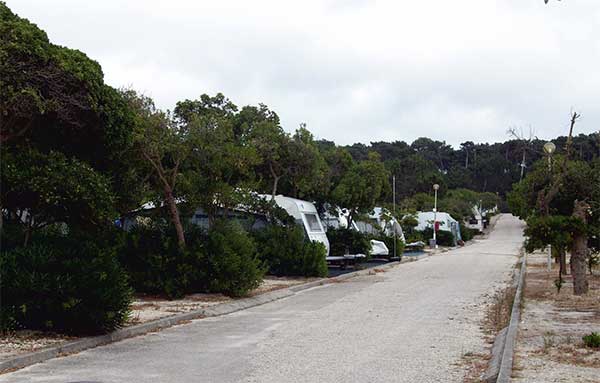 Features
Place the mouse pointer over the image to get a caption
LANGUAGES SPOKEN AND PAYMENTS ACCEPTED




TERRAIN




EQUIPMENTS





RESTAURANTS & SUPPLIES



SPORTS AND RECREATION



NEAR THE CAMPSITE





LODGINGS


Preços
Minimum and maximum value for each day selected for the Camping Pack and Caravan Pack
The camping package includes 1 piece of equipment (small tent + tent car or sleeping car + 2 pax.
The Caravanning Pack includes 1 piece of equipment (large tent + caravan or motorhome + electricity + 2 pax.
2 Pax + Tent 16.00€ – 16.00€
2 Pax + Motorhome/Caravane 20.00€ – 20.00€
Max/Min Capacity 25.00€ – 80.00€
Situated on the edge of Pinhal de Leiria, the Campigir de São Pedro de Moel Camping Park offers pitches bounded by natural hedges and trees that provide reasonable shade. Its privileged location, next to the sea and in a region with a fishing tradition, makes it a good base to access the surrounding region.
In addition to the camping, the park has complementary accommodation on a rental basis, fully equipped, with a capacity of 2 to 6 people.
Glassmaker soup (cod soup);
Pine nut cake;
Milk liqueur.
São Pedro d Moel Lighthouse – 100 m;
S. Pedro de Moel brook; Poeta Afonso Lopes Vieira's house;
Marinha Grande (10 km): glass museum; Pedreanes blast furnace
Galeria
Contactos
Avenida do Farol São Pedro de Moel 2430-502 Marinha Grande
39.764973015832, -9.0301609039307
244 599 289 – Call to the national landline network
Horário
01/09-30/06: 9h-17,30h 01/07-31/08: 8h-22h
Entrada/Saída de Veículos
Contactar
Deixe aqui a sua mensagem. Todos os campos são obrigatórios.
Caravanismo: 2 Pax + Auto/Caravana
Alojamento: Capacidade Mínima e Máxima