Roteiro Campista 2021
8.90€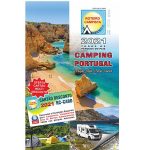 SOLD OUT GET THE 2022 EDITION HERE
Portuguese Campings Guide Roteiro Campista 2021
It presents detailed information about all the campsites in Portugal: complementary accommodation, tariffs, opening hours and operation of the services, points of tourist interest and regional gastronomy. It includes a roadmap with the location of campsites and GPS coordinates, plus a QR-Code for immediate access to the road via Google Maps (R).
The first section of the guide is fully dedicated to caravanning , motor home, equipment, accessories and outdoor activities, followed in the two sections dedicated to camping and complementary accommodation for rent. It includes information about closed campsites.
205mm x 125mm x 15mm 312 pages.
Discount Card valid at more than 100 establishments included.
Out of stock